Many users are still using ConvertXtoDVD to burn disks so they can play them on their living room players. Whether users realize it or not, often their source files are in HD and when they convert them with ConverXtoDVD they are converting them down to DVD resolution, maximum value is 720p - limited by DVD standards.
Tools such as
VSO Media Player
(freeware), VLC (a free media player) and MediaInfo will provide you with your source files resolution.
You can now get the most of your HD files even if you don't have a Blu-ray Burner or player!
Step 1
Find out what formats your living room player supports:
Look at your DVD player and if you see a DivX logo it means it supports other formats besides just DVD which is good news for you! Many DVD players, that aren't too old, support AVI, Mpeg4, H264 which are not limited to DVD resolution. If you do not see this DivX or other codec logos you can look up the model number in Google to see what codecs your player is compatible with (or look in the manual). If your DVD doesn't support anything other than DVD then you will limited to DVD resolution and the suggestions below do not apply to your case unless get another DVD player compatible with HD but might as well get a blu-ray player if you will be replacing your equipment.
Example of DVD player with supported format logos, click on image to enlarge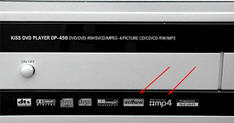 Step 2)
Convert your HD files and burn them to DVD:
If your player supports the codecs DivX, Xvid, Mpeg4, then you will want to convert to one of these formats. In this case convert your videos to AVI (Xvid or Mpeg4 as the video codec) format with
ConvertXtoVideo
, software that converts videos to and from any format, and burn them to DVD this way keeping the original HD resolution of your files.
Want more details? See the
post below
.
or Step 3)
And if you want a menu:
If your living room player is compatible with AVCHD format, which is the case for most blu-ray players and HD players but not basic (old) DVD players, you have two possibilities:
a) if you only need a basic menu, then you can use the conversion profile AVCHD in
ConvertXtoVideo
and check the
target size
in the
Settings
is set to
DVD
.
b) If you want to personalize a menu for the files you are converting, like in ConvertXtoDVD, then use the software product
ConvertXtoHD
and create AVCHD disks: simply select the
AVCHD
output format in the
Default settings
/
Output format
/
Structure type
and the
DVD
output in
Encoding
/
Target Size
.