Comment convertir de Pal en NTSC, et vice versa ?
Suivant l'endroit ou vous habitez dans le monde, les formats DVD peuvent être différents, et si vous ne sélectionnez pas le bon format, la lecture sur le lecteur DVD risque d'être impossible.
Dans certains cas, le lecteur DVD saura lire les deux formats, mais dans le doute, voici comment choisir le bon format avant la conversion:
The two most common video standards used are NTSC and PAL.
NTSC est le standard vidéo utilisé principalement en Amérique du Nord et du Sud. dans le NTSC, 30 frames sont transmis chaque seconde. Chaque frame est composé de 525 lignes de scan.
PAL est le standard utilisé en Europe, Australie....En PAL, 25 frames sont transmis chaque seconde. Chaque frame est composé de 625 lignes de scan.
Pour être sûr de choisir le bon format, vérifiez quel standard est utilisé dan s le pays ou sera lu le DVD :
http://ihffilm.com/videostandard.html
Voici comment sélectionner le standard vidéo dans ConvertXtoDVD 5:
1) Télécharger la dernière version de ConvertXtoDVD 5.
Pendant l'installation une fenêtre vous permet le choix suivant: PAL ou NTSC (vos fichiers seront toujours encodés dans ce format) . Si vous sélectionnez "Automatique", ConvertXtoDVD choisira automatiquement le format le plus proche que celui de l'original. Il vous faudra donc possédez un lecteur DVD qui puisse lire les deux formats.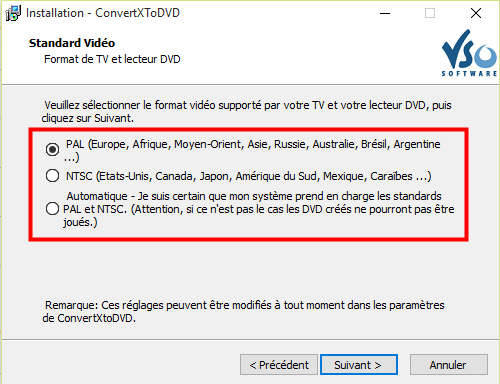 SI vous avez déjà installé ConvertXtoDVD, allez dans « paramètres par défaut » «format de sortie » et utilisez le menu déroulant dans « résolution de sortie » « standard de sortie » pour faire votre choix :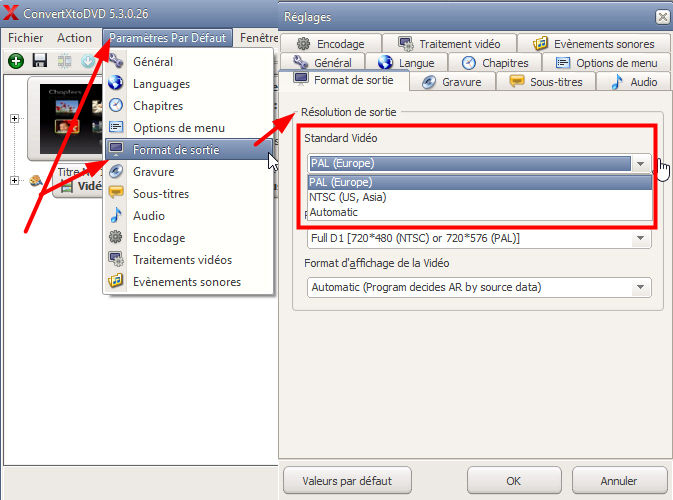 Et voilà! Rappelez-vous, le format doit être sélectionné avant de faire la conversion.