When you convert a DVD or a Blu-ray, especially "official" ones, they are usually packed with a lot of audio and subtitles streams in different languages. For instance the Blu-ray I used in my example below, has no less than 17 different subtitles and 11 audio tracks on it.
If you do not remove the unwanted streams, you will end up with a heavier project than necessary, and often it will be hard to select the audio (or subs) of your choice when watching the video as these will be lost amongst other available tracks.
Also if you're converting to a format that will allow only one audio and subtitle track (tablets, avi..) then you're very likely to end up with a video with the wrong language by default.
That's why it's important to select the right tracks before conversion. Our Blu-ray Converter Ultimate, DVD Converter and Video Converter make this an easy task!
The video editor allows for easy and quick selection of tracks : the flag of the country is added in front of the track and the live player allows you to check which tracks to get rid of and which to keep.
Another important point: when there is more than one file for the same language, there is often one for the main video, one for the hearing impaired, etc, so you will need to play them first to make sure you don't select the right one according to your needs.
Steps to follow:
1. Open the program (this tutorial is good for all Blu-ray Converter, DVD Converter and VSO Video Converter). Select the output format of the conversion in the drop down list on the top right hand side.
Insert your video into the software and click on the icon on the right hand side (or double click on the file) to open the Video Editor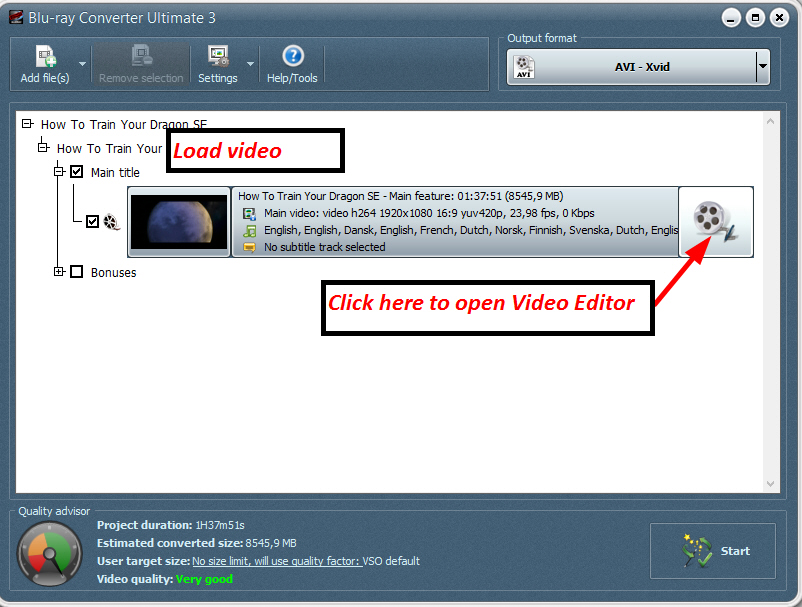 2. The audio and subtitle tracks available for selection are at the bottom of the timeline. Identify which one you need to keep by playing the tracks in the live preview: click on the green Play button on the left of each track to play it.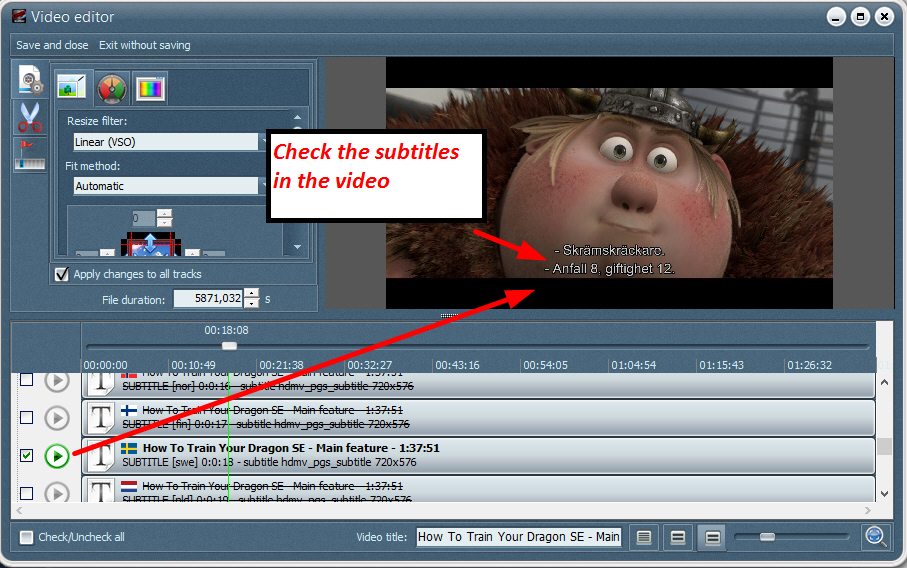 3. Make sure the unwanted tracks are not "ticked" on the left .
Only the track(s) you want to keep on the converted video need(s) to be ticked
. All unwanted tracks are also crossed off for easier overview. If some tracks are already crossed off, this means there is only allowance for a certain number of tracks (ie, tablet format only allow for 1 subtitle and 1 audio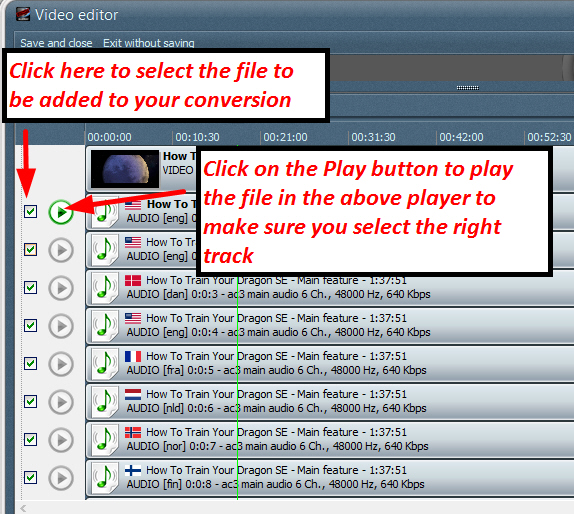 Once you're happy with your selection, make sure you click on "save and exit", then click on "start"