Hello,
This guide works for subtitles in .SRT .SUB/IDX, .SSA format. The result is your movies converted to standard video format with subtitles and burnt to DVD so you can watch them on any dvd player.
To follow these steps you will need ConvertXtoDVD ;
Download
trial version
First add the video file you could like to convert and burn onto DVD. To do this either go to File/Add video file (1) or click on the green button "+" (2)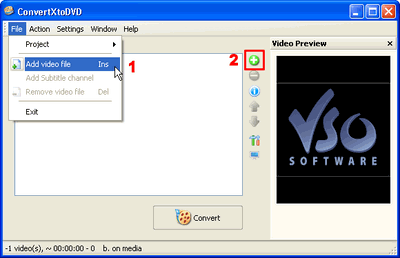 Figure 1
Now click on the "+" sign next to your film, and you will see a sub-section titled "Subtitles". This sub-section indicates the number of subtitles streams associated with the video file added. If there are any subtitles streams they will appear listed below.
Figure 2
If you had "0" subtitle streams added, you can do either one of two things to add subtitles:
1) Right click on "Subtitle (0 stream)" and click on "Add Subtitle"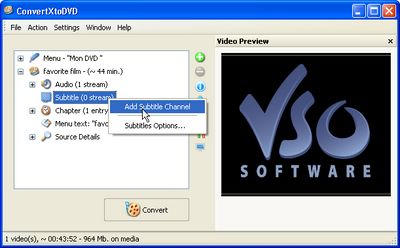 Figure 3
Or
2) Remove the film you added to ConvertXtoDVD by clicking on the film and then on the red "-" button. (Figure 4)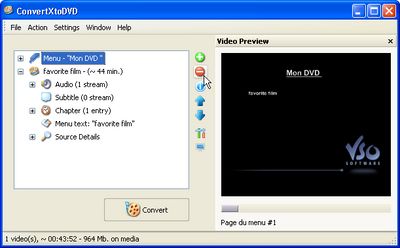 Figure 4
Now find your subtitle file on your computer and put it in the same folder that your video file is in, and give it the exact same name keeping only the extension.
Example:
Folder name : Favorite film
(with these files in it)
favorite film.avi
favorite film.srt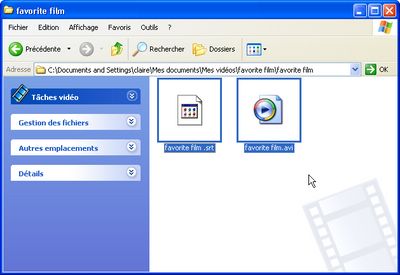 Figure 5
Add the video file again to ConvertXtoDVD and you will now see your subtitle stream as done in Figure 1.
If you would like to select the subtitle you would like to show up by default when you play your DVD, simply right click on the subtitle file you have added and select "Set as default subtitle".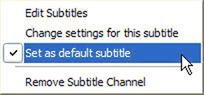 One last thing, if you would like to change edit the font or other characteristics of your subtitles simply right click on the subtitle stream and select "Change renderer settings"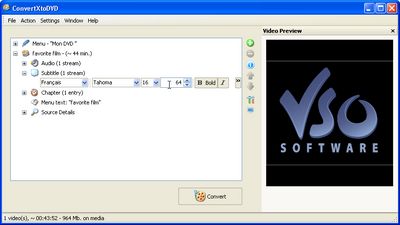 Figure 6
Now insert a blank DVD into your DVD burner and hit convert!
(the trial versio will leave a watermark on the video-use an RW disk)
Download Now