How to convert NTSC to PAL or PAl to NTSC ?
Depending on where you live, DVD formats are not the same and if you don't select the right format prior to converting your DVD may not be read by the DVD layer. In some cases the DVD player will support both standards and this won't be an issue, so check your player specidfications.
The two most common video standards used are NTSC and PAL.
NTSC is the video standard used in North America and most of South America. In NTSC, 30 frames are transmitted each second. Each frame is made up of 525 individual scan lines.
PAL is the predominant video system or standard mostly used overseas (Europe, Australia...). In PAL, 25 frames are transmitted each second. Each frame is made up of 625 individual scan lines.
To check the standard used in your country (or region) , please consult this list:
http://ihffilm.com/videostandard.html
.
Here is how you set the video standard in ConvertXtoDVD 5:
1)
Download
and install the latest version of
ConvertXtoDVD 5
.
During the installation can select the default video format supported by your TV, if you select PAL or NTSC your files will always be converted to this format and you will not need to make any changes later in the settings. If you select "Automatic", ConvertXtoDVD will automatically choose for each file added the closest format that matches the original file (and the same goes as well for the aspect ratio 4:3 full screen or 16:9 widescreen).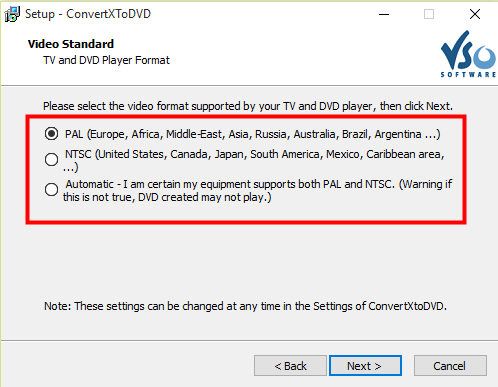 Figure A
If you want to check or change the video standard, click on "Default Settings" "Output format" and use the drop down menu under "Format" to make your selection.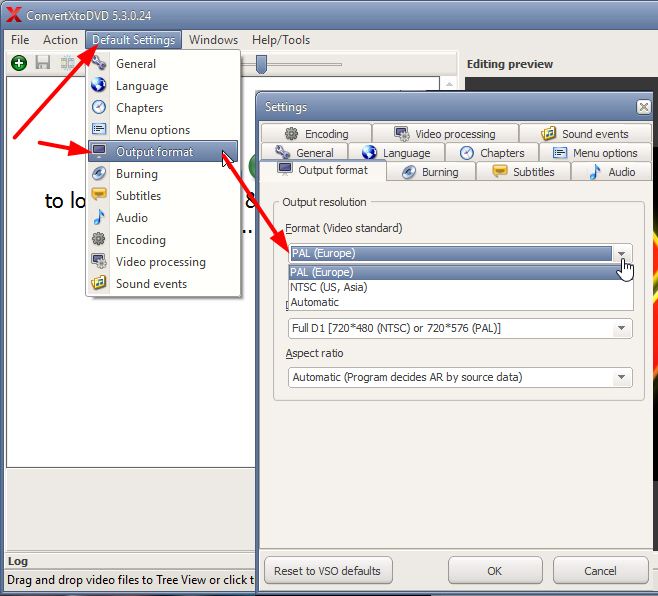 Download ConvertXtoDVD
Buy ConvertXtoDVD
Additional information: How does ConvertXtoDVD technically handle this process?
For a NTSC to PAL conversion NTSC represents 29.97 fps (frames per second) and PAL 25 fps. The video is processed internally in order to drop some frames to get the PAL format which is 25fps. In some cases these types of conversions may produce results where the image is choppy during action scenes (or fast camera movement).
PAL 25 fps to NTSC 29.97 fps conversion is the concept of adding more frames per second to video (a.k.a using pulldown). Physically no more than 1/3 additional frames can be added to total original video.