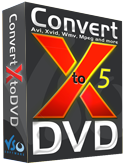 We're very happy to say that we're planning to release the new ConvertXtoDVD 5 very soon.
A beta version of it can be
downloaded here
We know this is a much-awaited version and we want to unveil the mystery a little before the release of the real thing.
ConvertXtoDVD 5 is not yet another update. It's almost an entirely new software: we have kept the ease of use, but have added loads of new options to make your video conversion the ultimate experience.
See for yourself :
- live preview (watch in realtime playback of current conversion + any modification, subtitles, audio selection added)
- video editor (ability to remove commercials / portions of video)
- interface revamped, new video editing window, (treeview settings can be edited in new dynamic window with visual feedback)
- menus features added: adjust audio length for menu, audio sync issues corrected, widescreen & fullscreen menus
- flip/rotate video
- post processing (add/remove brightness/contrast)
- better chapter support (from mkv + original chapters form DVDs + support chapter text lists)
- cuda support
- better support for DVD and blu-ray movies/series and input (discriminator added), multi-angle films supported
- better overall processing of videos (correcting audio/video sync issues)
- better support for ts files
- improved multi-core support
-**added 16 Dec**: ability to hardcode subtitles
- **added sept 6th**: better audio quality
If you wish to get the software before everybody else, take part in our pre-sale event:
buy
the standard license 4 now, and you'll get instructions on how to retrieve the key for V5.
If you're a returning customer, you are
entitled to a discount
.
In all cases, you'll receive the download link as soon as we release the first beta version.